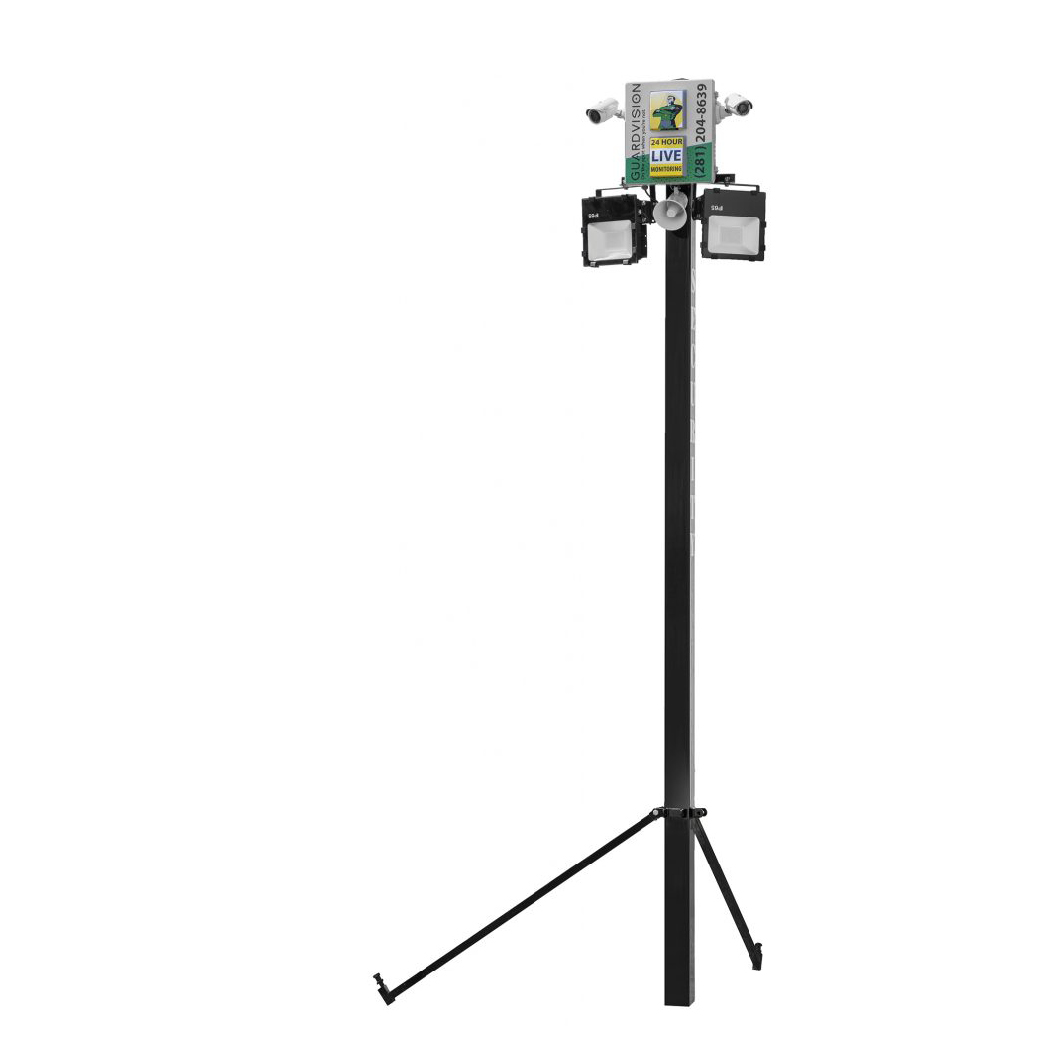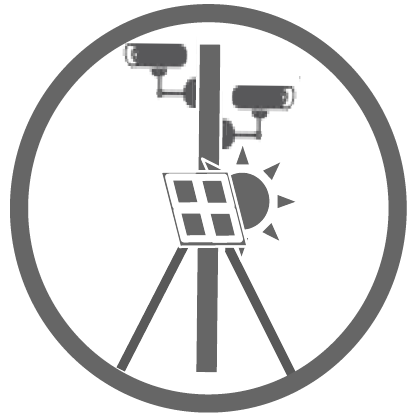 Pole Mounted Security Cameras
The APEX pole mounted security camera system is a temporary security solution, with highly effective security surveillance, designed to help keep your company, property or event safe 24/7. With 24 hour video monitoring services and high-efficiency camera systems, your business or party is in good hands at a fraction of the cost of hiring security guards. GuardVision will work with you to strategically customize and install the right security camera solution for your business. 
These pole mounted units are optimal for construction sites, private parties and events, or other locations that need short-term security. Our unique, "No-Dig" design uses staked leg supports rather than digging a hole for fast setup that is perfect for smaller and temporary job sites. Multiple APEX security cameras can be combined on one site and linked together for greater area coverage and they can be added to any TITAN Trailer or Wireless Box Units.
Affordable, Effective Wireless Commercial Security
Our APEX Pole Mounted Security Camera Systems provide the best virtual security for numerous industries and outdoor applications, including: Construction Sites, Car Dealerships, Car Rental Facilities, Parking Lots, Warehouses, New Home Developments, Private Events & Parties, Oil Field, Drill, & Equipment Sites, Retail Stores/Shopping Centers, Industrial Sites, Manufacturing Companies, Equipment Rental Facilities
Standard Features:
"No Dig Design" 12 ft Steel w/Pole Leg Supports

High Resolution Cameras

Red & blue strobe lights

Two tone siren with voice warning in English & Spanish

Battery backup protection

Vital Sign Monitoring (VSM)

Internet connectivity for remote viewing,VSM & Central Station (CS)

Fast, flexible deployment

24/7 on-site, event based recording

Advanced analytic based motion triggering

Lease or purchase

Remote configuration support
Optional Feature Upgrades:
Up to 12mp resolution per camera

Pan tilt zoom cameras

Thermal cameras

100W led flood lights

Air quality monitoring

Solar power

Time lapse imaging

GuardVision video surveillance monitoring
Communication & Software
Live view of streaming video

Wireless network link for remote installations

Playback of recorded video

PC, IOS, and Android Viewable

Automated transmission of events to monitoring station – vital sign monitoring to know the condition of the unit

Password protected account access, management and control – communications built in or bridgeable to customer's network

Complete network connected security module
Recording Capabilities
Auto record video events

Record by motion or I/O trigger events

Pre-alarm and post-alarm recording

Recording history from 4-365 days

On-board storage or cloud storage available
Power System
Powered by 110 AC with battery back-up

High efficiency camera system

Remotely monitored power system analytics

Low power operation
GuardVision Virtual Security Services
GuardVision is the best commercial security and surveillance company for security cameras in Houston, Texas. Whether you're an international corporation, or a local, Houston based small business, our job is to keep your company, your assets and your people safe. Our fully customizable range of services ranges from mobile security to access control systems to 24/7 live monitoring to suit any virtual security needs.